Bridging the past, present, and future.
The Southwest CUNA Management School Alumni Association benefits SCMS graduates, the institution, and future members in tangible and intangible ways, including:
Support for Southwest CUNA Management School;
alumni news and information;
staying connected;
sharing a common bond of pride in SCMS;
an immense network of professional contacts;
engagement opportunities;
empowered brand ambassadors;

alumni events and discounts;
professional resources;
volunteer opportunities;
mentorship;
alumni recommendations;
the power of community; and
continuing to expand your sphere of influence.

Your membership in the SCMS Alumni Association also increases the prestige of the association and the value of your investment and diploma.
Tell Us Your Story!
SCMS furthers professional development, helps strategically position credit unions, and creates networks for a lifetime. We want to share your experience. Tell us your story and it may be featured on this website or in other promotional mediums. We're looking forward to hearing how SCMS has played a role in your personal and professional development.
SCMS Alumni Raises $2,500 in Honor of 'Momma J'
Nov 18, 2021, 10:21 AM by SCMS
In honor of Janine "Momma J" McBee's 40th year with Cornerstone League, the SCMS Alumni Association created the Momma J Scholarship Fundraiser Challenge to donate $40 for 40 years throughout November to the Cornerstone Foundation. The Foundation has announced that more than $2,500 was raised for SCMS scholarships in McBee's honor.
Over the past 40 years, McBee has touched more than 1,300 lives in the Cornerstone region. She has mentored and educated credit union staff and prepared future leaders to strengthen and grow our credit unions.
"Janine's love of credit unions, learning, and her students are the perfect combination that makes the Southwest CUNA Management School the success it is today," said Foundation Executive Director Courtney Moran. "The passion she shares and instills in the students for the credit union movement is seen in every student as they cross the stage at graduation. Her kind and giving heart exemplifies the credit union spirit."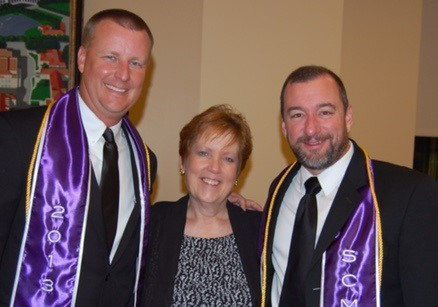 Janine is a true professional and always has the best interest of her students and credit unions in mind, Moran added. "I want to thank our SCMS Alumni Committee for donating $40 in honor of Janine's 40 amazing years of impact in the credit union movement."
If others would like to donate $40 to SCMS scholarships in honor of Janine McBee's 40 years of service, the Cornerstone Foundation has created a text code to facilitate the process. Follow these easy instructions:
Start a new text from your mobile phone to this number: 44-321
Enter the text code JANINE40 as the message.
Once you send the message, you will receive an automatic text with a link to click and donate.
Southwest CUNA Management School holds various events throughout the year. Check back later for information on future events.