Sometimes the worst time to attend school is the best time
Mar 21, 2022, 00:00 AM by SCMS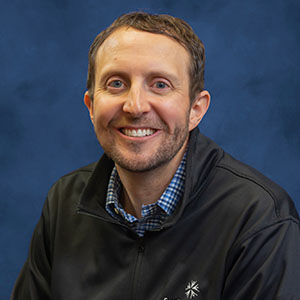 To paraphrase the opening line of Charles Dickens' Tale of Two Cities, you might say that Luke Campbell's opportunity to attend Southwest CUNA Management School in 2013 came at the best of times and the worst of times.
Campbell had spent nine years in the credit union industry and had just joined Southwest Financial Federal Credit Union in Dallas, when CEO Melanie Kennedy strongly encouraged him to attend SCMS.
Campbell was the vice president of member loyalty and opportunity and the second in command at the credit union. So, the timing for him to gain the broader industry perspectives imparted at SCMS couldn't have been better.
"I figured this was a sort of make-it-or-break-it opportunity," he said. "SCMS was going to be the thing that took me over the top because it covered all the things a CEO needs."
But then there was the matter of his brand-new marriage, followed a year later by the birth of his son, which made the timing to attend SCMS a bit more challenging.
"Obviously I had the support of my CEO and my wife to continue in the program," he said.
Campbell has not looked back since. He strongly appreciates the knowledge he gained in management, finance, accounting, and marketing, but he also appreciates the relationships he gained with industry peers.
"It is incredibly valuable to build a group of people that you can confide in and see what's working at other credit unions," he said. "The credit union movement, as a whole, is built on helping one another. When you put all those people together in one place, they are going to see each other's strengths. Some were already CEOs, and some were new managers. It was a whole realm of people to bounce ideas off of."
Campbell has maintained those relationships to this day. "We still use the email group from the Class of 2015," he said. "We talk about this vendor or that vendor and about new policies and regulations."
Campbell said the perspectives of his classmates help a lot, and he knows that it would have been difficult to build such a network without having the common experience of those three years in Southwest CUNA Management School that binds graduates together for the long haul.
He credits the SCMS administrative team and SCMS Director Janine McBee for putting together a beneficial platform of learning taught by quality instructors.
"I think the staff there is amazing," Campbell said. "They are really passionate about making people who may not see themselves as leaders believe that they can be."
When asked to recount his fondest memories of SCMS, it is his classmates that Campbell remembers best, specifically helping each other with their final presentations and watching them walk across the stage at graduation. "I loved my time at SCMS."
Since Campbell graduated, Southwest Financial has sent two more employees to SCMS, and a third will start this year.
"I have told them all how important the networking aspect of SCMS is and how in-depth the classes and exercises can be," he said. "It really helped me determine that a career in the credit union industry was my path and where I wanted to be."
Campbell said he does want to be a CEO one day, perhaps when the time is right at Southwest Financial. "I'm extremely happy with where I am and what I do for my credit union," he said. "The ideal situation would be to stay here."