True Sky CU CEO receives most admired CEO award
May 24, 2022, 09:12 AM by Cornerstone League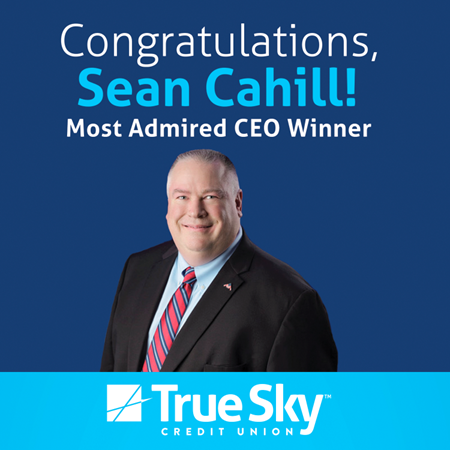 Oklahoma publication The Journal Record recently honored leaders at the 13th annual Oklahoma's Most Admired CEOs & Financial Stewardship Awards event, where True Sky Credit Union CEO Sean Cahill received a Most Admired CEO award in the private company category.

With almost 30 years of financial industry experience, Cahill oversees the credit union, which operates in eight counties.

"Sean Cahill has devoted his life to serving the community, serving people, and employees through this visionary leadership and financial stewardship," said Julie Gamblin, True Sky's chief administration officer. "He truly exemplifies our mantra of Serve. Empower. Enrich. Mr. Cahill sees a need in the community, and he works until he sees that need has been met."

Before joining True Sky, Cahill was CEO for Southwest 66 Credit Union and held executive management roles at Carter FCU, Arizona FCU, and US Bank. He has practiced strategic planning and retail delivery throughout his entire career and established leadership academies across the country.

Since becoming CEO in 2018, Cahill has helped True Sky reach new heights by growing the credit union's assets from $500 million to $900 million, adding six branches to the credit union's reach, and creating the Sky Crew which delivers random acts of kindness across the Oklahoma City area.

Aside from running True Sky Credit Union, Cahill serves on Cornerstone's Children's Miracle Network Board, CUNA World Affairs Committee, CUNA National Governmental Affairs Committee. Cahill previously served as chair of the CFPB Advisory Council, Cornerstone Innovation Council as well as the Southwest CUNA Management School Alumni Association, acted as the director for CU Resources (now known as Cornerstone Resources), and served as past chair of the Cornerstone Innovation Committee and Chairman of the Fiserv Strategic Committee.